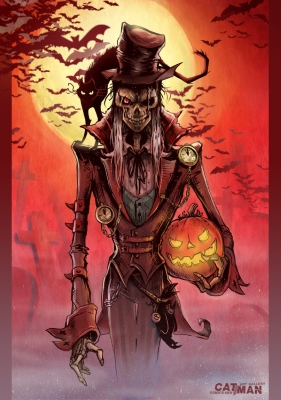 Now Handsome Jack wasn't known to be slack
with a raise of his brow the bats scattered
as the pumpkin smirked and the black cat meowed
and the holy white crosses all fell back
The moon's glow added a mysterious glimmer
as he stared straight at his next victim
oops, decadent woman of the hallowed night
making his rowdy blood and the red mist simmer
His attire mocked the average dressed Poe
with ruffled sleeves and a raised collar
jacket cinched tight with Lenore dangling
from his belt, he hoped would cause a row.
Handsome Jack made his intent blatantly clear
Annabelle would come willingly to his side
replacing Marie Laveau in a fiery flash
but there's more to the story then might appear
The cat and the pumpkin placed their bets
as the two men snickered and bickered
the merits of a woman's worth but neither
remembered a woman never forgets.
A woman's fury is worse than gates of hell
Bats and cats both are very aware
that only a foolish grinning pumpkin
and a man sporting a hat would ring that bell.