https://esthernewtonblog.wordpress.com/2020/10/26/laughing-along-with-a-limerick-30/
seriously, give me a dang break
sincerity, yours is clearly fake
you….. promised to be there
said you really care….
I don't need this headache or heartache
***********************************************************
Crocheting
I've been working on Olyvia's birthday present while I'm laid up. She's a huge fan of Monster's Inc. It's been quite a long time since I've worked on toys. I used to make crocheted toys all the time when my children were younger. John had a blue and white rabbit, Chris had a dragon and Amanda had Humpty Dumpty that I had done when they were born. There were other crocheted toys over the years. I don't know why I stopped.
Last year a friend asked if I could make him Finn from Adventure Time. It was actually an easy pattern and I enjoyed it. Then he asked about Forky from Toy Story, so I did Forky.
I asked my daughter if Olyvia would like Woody and Jesse from Toy Story. She said, Olyvia would but she would really love Mike Wazowski and Sully. Her favorite movie is Monster's Inc. So I did Mike and I'm working on Sully.
*******************************************************************
Foot update:
I'm a klutz . I fell on September 30th lugging boxes downstairs for our trip to Maine on October 2nd. I missed the dang step. Yeah, it hurt but I didn't think too much of it. It was sore but one expects that when you fall. It didn't bruise so I thought I escaped the bullet. It was uncomfortable to bear weight but I figured it would go away But unfortunately, last Monday (19th) my ankle turned dark purple and the swelling was spreading up into my leg. So I made an appointment with an orthopedic. Ex-ray wasn't conclusive enough on the ankle but they were able to determine I had a heel spur, tore my achilles and a hairline fracture of my foot. Naturally, let's do more tests so I had the MRI done. Stay off the foot, use crutches and we'll see you on the 28th. We discuss then if you need surgery because the MRI will tell us more about the achilles and how bad it's torn and what's going on with the ankle. By the way, we recommend compression knee high socks so you need to get those for your boot that you'll be fitted for on the 28th.
If it hadn't been a pandemic, I would've had the MRI the same day and this would already be done. Got to make the appointment online, wait for them to call you back do their screening and then they'll schedule you.
Anyway to make a long story short… I've been hanging out in a recliner with my foot elevated putting a lot of Voltaren creme on it and crocheting. If you have any kind of pain, Voltaren works really well with the direct application to the area. Between that and taking the Diclofenac which is the pill form of Voltaren I've been reasonably comfortable until I do the hop to the bathroom or navigate the stairs to come down in the morning or go back up at night for bed.
Vic wants to wrap me in bubble wrap.
***********************************************************
Reading:
Olyvia gave me a talking too about my reading. Apparently, I'm not reading enough. I just finished Ray Bradbury's The Halloween Tree ( excellent) and Roald Dahl's Book of Ghost Stories. She's read more books than me plus done her schoolwork. I took the lecture in good grace because I couldn't simply say I've bee crocheting her birthday present.
**********************************************************
Poetry Contest: Picture Prompt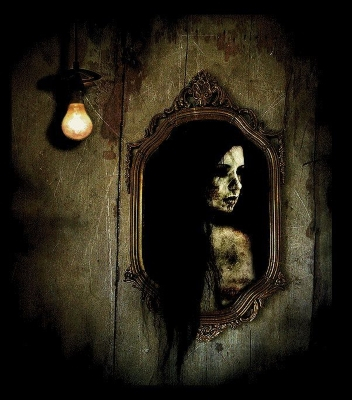 Mirrored in Pain
A single glowing orb casted light
upon my love's dark, silken mane
for it helped hide her slender neck from sight.
I fear she chose the angle to hide her fright
from my rage because every word was a strain.
A single glowing orb casted light
adding to my agony beholding this night.
Oh the sorrow, if only there wasn't pain
for it helped hide her slender neck from sight.
Did she abandon living out of spite,
just to mock our love. Is she really that vain?
A sing glowing orb casted light
I will find a way to set things right
for I will not be known as a cruel swain
for it helped hide her slender neck from sight.
Lovers all have moments they feel contrite
we mustn't let our happy memories be slain.
A single glowing orb casted light
for it helped hide her slender neck from sight.
19 lines
A Villanelle is a nineteen-line poem consisting of a very specific rhyming scheme: aba aba aba aba aba abaa.
The first and the third lines in the first stanza are repeated in alternating order throughout the poem, and appear together in the last couplet (last two lines).